10 High-Yield Urine Cast Pearls for Clinical Practice and the ABIM Exam
A high-yield piece of data to note on nephrology questions as you prepare for the ABIM Internal Medicine board examination is the presence of urine casts. The type of cast can serve as a helpful hint to identifying the likely diagnosis. Here are the Top 10 pearls to remember:

#1: Pre-renal failure can show Hyaline Casts. Hyaline casts don't necessary represent pathology.

#2: Acute tubular necrosis can reveal Muddy Brown Casts

#3. Allergic Interstitial Nephritis (AIN) usually shows urine eosinophils on Hansel-Wright stain . However, there are two main exceptions to keep in mind. NSAIDs can lead to AIN WITHOUT the presence of eosinophils on Hansel-Wright stain. About 33% of the time, proton pump inhibitors can cause AIN WITHOUT eosinophils on Hansel-Wright stain.

#4. Nephritic syndrome shows Red Blood Cell (RBC) casts

#5. Nephrotic Syndrome shows fat oval bodies

#6. Chronic Kidney Disease shows waxy or broad casts

A picture is worth a thousand words so let's put these facts together into a colorful, helpful diagram that you can use to review urine casts.
Internal Medicine Boards Review: Urinary Casts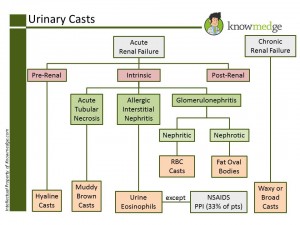 (click image to enlarge)

Speaking of NSAIDs, a couple of points to remember regarding their association with the kidney:

#7. NSAIDs can lead to pre-renal failure, papillary necrosis, minimal change disease, membranous nephropathy, and of course AIN without eosinophils

#8. NSAIDs will NOT DIRECTLY cause a patient to develop Acute Tubular Necrosis. However, after prolonged pre-renal acute kidney injury from NSAIDs or with the concurrent use of diuretics and ACEi/ARB, ATN can occur.

#9. On the other hand, ACE inhibitors can cause Acute Tubular Necrosis but NOT Allergic Interstitial Nephritis

Remembering when to stop ACE inhibitors in the context of a rise in creatinine is also beneficial.

#10. A 30% or higher jump creatinine necessitates discontinuing the ACE inhibitor. Thus, if a patient's baseline creatinine is 1.2mg/dL pre-ACE inhibitor and 1.5mg/dL (25% increase) after initiation of lisinopril, continue the medication for now. If however, the creatinine rises to 1.7mg/dL (42% increase), stop the lisinopril.

Hopefully with these 10 pearls and the unique Knowmedge diagram, you'll be able to quickly associate urine casts with the appropriate kidney disease as seen on the ABIM examination learning objectives.