Everything to Know about Pneumococcal Vaccinations for Boards & Clinic
It's General Internal Medicine Week here @knowmedge! We love it for so many reasons. It makes up a significant part of the USMLE, ABIM, ABFM and PANCE boards. It is fun to learn. And, finally, it is highly useful for addressing the many questions that arise in outpatient medicine. In other words, General Internal Medicine is useful for both the Boards and Wards!

One General Internal Medicine topic that perplexed me when the latest guidelines were released in 2015 was pneumococcal vaccinations. I knew folks above age 65 get it, but wasn't clear on younger patients or who to revaccinate with a second vaccination or the PCV13 one that was developed in 2010.  

Who should get the Pneumococcal vaccination?
High-risk persons younger than 65 years

Adults aged 65 years and older
How many Pneumococcal vaccinations are there?
There are two pneumococcal vaccines:
A polysaccharide vaccine composed of capsular material from 23 pneumococcal subtypes (PPSV23; Pneumovax 23).

PPSV23

 

is less than 70% effective in preventing pneumococcal disease.

It does NOT re

duce the risk of pneumococcal pneumonia.

Revaccination is needed after 5 years in some patients.
A conjugate vaccine containing capsular material from 13 pneumococcal subtypes conjugated to a nontoxic protein (PCV13; Prevnar), which increases its immunogenicity.

PCV13 is more than 90% effective in preventing pneumococcal disease.

It is also effective in reducing pneumonia and even acute otitis media somewhat.
Who are the high-risk persons younger than 65 years who should be vaccinated?
The list is actually kind of long but not to worry at all. We'll break it down for you.
Chronic heart disease

Diabetes mellitus

Chronic liver disease

Alcoholism

Chronic lung disease

Cigarette smoking

Functional asplenia (sickle cell disease, hemoglobinopathies)

Anatomic asplenia

HIV

Chronic kidney disease

Nephrotic syndrome

Leukemia/Lymphoma

Metastatic cancer

Hodgkin disease

Multiple myeloma

Chronic immunosuppressant drug use

Congenital immunodeficiencies

Solid organ transplant recipient

CSF leak

Cochlear implant
Which vaccination should they all receive?
They should ALL receive PPSV23.
Who should be revaccinated with PPSV23 after 5 years?
All of the above EXCEPT for the last two listed: Patients with CSF leak or Cochlear implants.
Who should also get the PCV13?
All EXCEPT the patients with history of chronic heart, lung, or liver disease, alcoholism, cigarette use, or diabetes.
But what if the patient is between ages 19 and 64 and already got a PPSV23 vaccine?
In that case, wait at least 1 year after the PPSV23 before administering the PCV13. If you give the PCV13 within the 1 year window, its immunogenicity is reduced by the recently received PPSV23.  In contrast, PPSV23 can be given as soon as 8 weeks after the administration of PCV13 without concern for reduced immunogenicity.
Which pneumococcal vaccination should immunocompetent patients age 65 and older receive?
For immunocompetent persons aged 65 years and older who have not received any pneumococcal vaccine, the Advisory Committee on Immunization Practices (ACIP) 
recommends administering a single dose of PCV13, followed by a single dose of PPSV23 at least 1 year later.

What about if the patient previously received PPSV23 at or after age 65 years?
In that case, give the PSV13 at least 1 year later.

What about patients age 65 and older with immunocompromising condition(s), functional/anatomic asplenia, CSF leaks, or cochlear implants?
They need both PCV13 and PPSV23 of course. Instead of waiting the usual one year, wait
8 or more weeks
between PCV13 (to be given first) and PPSV23.
What about if the patient previously received PPSV23 before age 65 years?
If the patient previously received PPSV23 before age 65, an additional dose of PPSV23 is needed to provide protection in latter years. This dose should be given at least 1 year after PSV13 and at least 5 years after the most recent dose of PPSV23.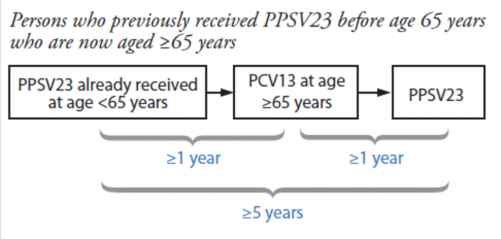 References:
Screening and Prevention: Pneumococcal Immunization. Board Basics 4. American College of Physicians. 2015. 143-144.
MKSAP 17. American College of Physicians. "Pneumococcal Vaccination Recommendations for Adults Aged 19 Years and Older with Underlying Medical Conditions."