Valentine's Day: When all hearts look like they have Hypertrophic Cardiomyopathy
Below is a review of Hypertrophic Cardiomyopathy, to help prepare you for the USMLE Steps, Internal Medicine In-Training Exam (ITE), ABIM, and PANCE boards. As we approach Valentine's Day, you've probably seen cartoon, oversized hearts pounding out of lovestruck couples in ads or greeting cards. While these individuals look so happy, if they truly had enlarged hearts—as seen in hypertrophic cardiomyopathy—they would be anything but smiling. What actually happens when the heart becomes huge?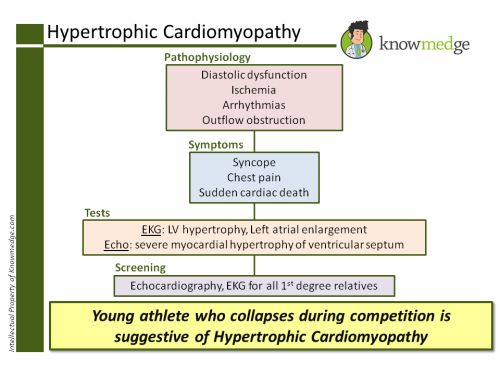 Diagnosis HCM is an uncommon but commonly tested cardiac disease. It usually exhibits autosomal dominant inheritance. On EKG, left ventricular hypertrophy and subsequent left atrial enlargement is detectable. Diagnosis is made by echocardiography, showing severe myocardial hypertrophy of the ventricular septum. Screening echocardiography should be conducted on all first-degree relatives. Symptoms The symptoms of HCM—syncope, chest pain, sudden cardiac death—occur due to the underlying diastolic dysfunction, ischemia, arrhythmias, and outflow obstruction associated with HCM. Distinguishing HCM and AS Since there is often outflow obstruction in HCM, it can be confused for aortic stenosis (AS). However, there are some key differences.
AS gives an ejection sound and usually radiates to the carotids, whereas HCM doesn't.
Aortic regurgitation (AR) can be present in AS, whereas AR isn't a part of HCM.
Valsalva maneuver and squatting-to-stand position decrease preload, which augments the HCM murmur. They diminish the AS murmur.
Therapy All patients with HCM should be counseled to avoid competitive sports. They should also not be prescribed digoxim, vasodilators, or diuretics as these can increase left ventricular outflow obstruction. The medical management depends on specific associated conditions as shown below: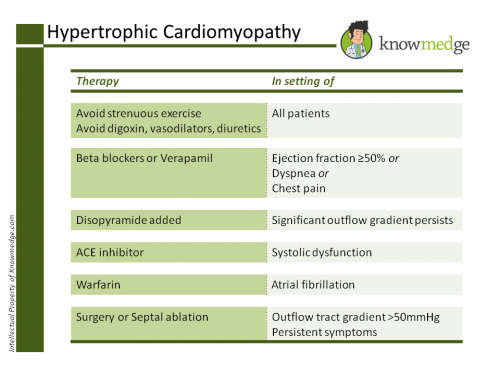 An Implantable cardioverter defibrillator (ICD) can be a life-saving device in patients with HCM. Those who benefit from having one placed are the following: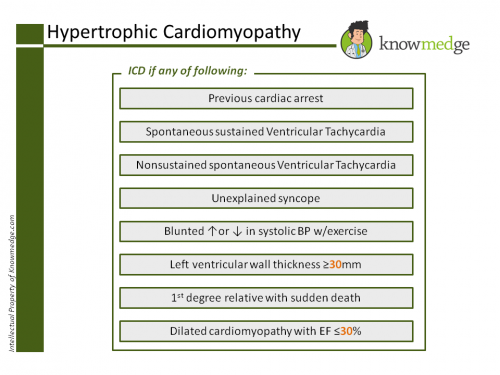 So, there you have the key points to know regarding hypertrophic cardiomyopathy for your USMLE Steps, Internal Medicine In-Training Exam (ITE), ABIM, and PANCE boards. Now, for a limited time, take advantage of our Valentine's promo with the code "LUDDUB" and save 15% on any learning bundle. References: MKSAP 17. Hypertrophic cardiomyopathy. Cardiovascular Medicine. American College of Physicians, 2015. Board Basics: An Enhancement to MKSAP 17. American College of Physicians, 2015.