Internal Medicine Board Review Weekly Image Challenge: Holosystolic Murmur
Start out your Friday morning with an Internal Medicine board exam-style image question:

62-year-old Asian male with a history of coronary artery disease, hypertension, and hyperlipidemia presents with a chronic cough. The patient denies fevers, night sweats, or chills. On review of systems, he notes occasional chest pain that only lasts for a few minutes and occurs a couple of times a month. He drinks five shots of whiskey per day and has a 50 pack year history of smoking. Both of his parents died of myocardial infarctions, and his older brother underwent CABG last year. On physical exam, there is a 2/6 holosystolic murmur best heard at the apex. Based on his chest x-ray, what is the most likely cause of his symptoms?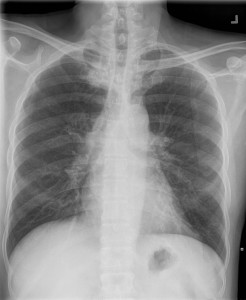 A. Tuberculosis
B. Myocardial infarction
C. Pulmonary neoplasm
D. Sarcoidosis
Answer:
Given the patient's extensive smoking history, he is at high risk for a pulmonary neoplasm (C). Chest x-ray demonstrates a rounded hyperdensity overlying the first anterior rib in the right upper lung field. A non-contrast axial CT slice through the upper lobes of the lungs is provided below. Also note the emphysematous changes in the bilateral upper lobes on CT that are likely secondary to the patient's long smoking history.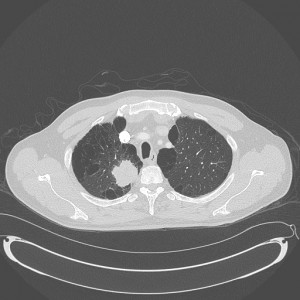 Explanation of incorrect answers:

Although primary tuberculosis (A) has a predilection for the apices, the patient's lack of systemic symptoms makes tuberculosis less likely. Additionally, primary tuberculosis usually affects younger patients.

The patient has extensive personal and familial risk factors for myocardial infarction (B), however, his chief complaint would be a highly unusual presentation for myocardial infarction. Additionally, his chest x-ray offers no evidence of acute heart strain, and his cardiac murmur is likely chronic in nature.

The patient's age makes sarcoidosis (D) unlikely. Sarcoid can be seen on chest x-ray, often manifesting as multiple pulmonary nodules and/or hilar lymphadenopathy.

You can see all the previous ABIM Exam image of the week blog posts at the Knowmedge Blog. You can find also additional topics and questions directly from the Knowmedge Internal Medicine ABIM Board Exam Review Questions QVault.