Internal Medicine Board Review Weekly Image Challenge: CT Head
52 year old female with history of hypertension, diabetes, and hypercholesterolemia presents with two weeks of headache. The pain is over the left frontal region and extends posteriorly. It improves minimally with over the counter pain relievers. On physical exam, she is mildly tender to palpation in the left frontal area. Her heart is regular without murmurs, and her neurologic exam is completely normal. CT of the head is seen below. What is the most likely cause of her pain?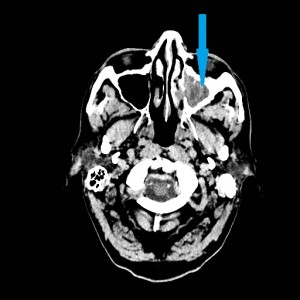 A. Sinusitis B. Intracranial hemorrhage C. Mastoiditis D. Cerebrovascular accident

Correct Answer: The axial non-contrast CT depicts complete opacification of the left maxillary sinus (blue arrow), consistent with maxillary sinusitis (A).

Explanation of incorrect answer choices: No intracranial hemorrhage (B) is evident on the CT scan shown above. Additionally, the chronicity of the patient's pain argues against hemorrhage. Fluid in the mastoid air cells is a common CT sign of mastoiditis (C). Cerebrovascular accident (D) usually manifests as an area of hypodense parenchyma on CT and usually presents with abnormalities on neurologic examination rather than focal pain.

You can see all the previous ABIM Exam image of the week blog posts at the Knowmedge Blog. You can find also additional topics and questions directly from the Knowmedge Internal Medicine ABIM Board Exam Review Questions QVault.

_______________________________________________________________________________ Dr. Russell Kosik is a 2011 graduate of the David Geffen School of Medicine at UCLA. He is currently a radiology resident at Santa Clara Valley Medical Center.