Book Review: Mayo Clinic Internal Medicine Board Review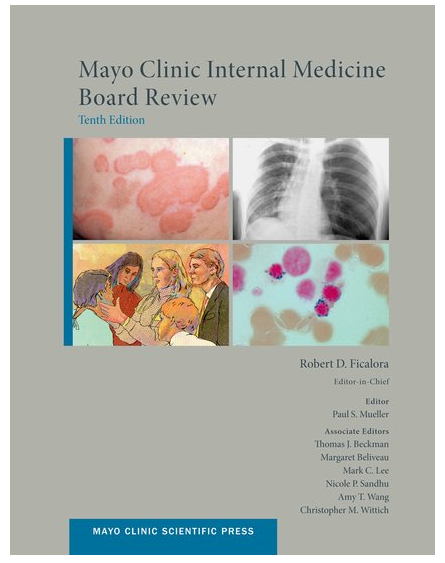 Mayo Clinic Internal Medicine Board Review

The Mayo Clinic Internal Medicine Board Review, 10th edition book, published by Oxford University Press, was developed as a comprehensive review guide specifically for those preparing for the ABIM Internal Medicine Board Exam. Edited by Dr. Amit Ghosh, this approximately 800 page book is used by residents and internists, both as a reference tool and a book for internal medicine board review.

Publication Date: June 27, 2013

Editor: Robert Ficalora MD

Breakdown of Book (Chapters):
ABIM Exam Overview (8 pages)
Part I: Cardiology (121 pages)
Part II: Gastroenterology and Hepatology (63 pages)
Part III: Pulmonary Diseases (55 pages)
Part IV: Infectious Disease (107 pages)
Part V: Rheumatology (50 pages)
Part VI: Endocrinology (61 pages)
Part VII: Oncology (19 pages)
Part VIII: Hematology (41 pages)
Part IX: Nephrology (39 pages)
Part X: Allergy (30 pages)
Part XI: Psychiatry (10 pages)
Part XII: Neurology (39 pages)
Part XIII: Dermatology (20 pages)
Part XIV: Cross-Content Areas (101 pages)
Price:

Amazon average reviews (as of 12/16/2013): N/A

Amazon Best Sellers Rank (as of 12/16/2013): #70,188

Our opinion as a book for Internal Medicine Board Exam Review:

The Mayo Clinic Internal Medicine Board Review is a great resource for Medical Students, Residents, and Internists. The information is up-to-date and the editor has done a great job bringing all the pieces together. The book is well-written, thorough and comprehensive for board review. The authors have done an excellent job of ensuring the information is properly cited throughout the book. The use of images and tables in this book is also fantastic! The book is extremely high-yield and we could certainly see someone highlighting much of the book.

After complaints of the size of the previous edition book (~1,000 pages), this book has been redesigned, updated and condensed slightly 801 pages. The biggest reason for the reduction is size is that this book no longer contains questions & answers. The 168-page Mayo Clinic Board Review Questions and Answers book can be purchased separately (currently $40.22 on Amazon). The book is now much more user friendly than the previous version and the long chapters have been broken into smaller sections.

Unfortunately, there are some downsides – including the size and weight (almost 6 lbs!) of the book. While we like how the book is broken up into different sections, it can still be a significant struggle for someone who has difficulty reading a lot of text and retaining information. In addition, while the tables and images are great, they are largely in black and white. Use of vivid imagery would have helped the pictures be more memorable. We believe the book also would have been strengthened with strong summaries or key concept boxes throughout the book. At the end of some chapters is a brief summary, though this could have been expanded to every section. We would also add that there are certain sections of the book that simply don't seem like they cover enough content (e.g., Oncology is only 20 pages while the ABIM exam blueprint indicates it is ~7% of the exam)

If you are a text reader and can get through this book – we applaud you! If you can retain the information – by all means, this is a wonderful book! However due to its size and small font, we would almost categorize this more as a reference book that can be bought early in residency or post residency as a reference resource. While not as comprehensive as Harrison's Principles of Internal Medicine, this is still a significant amount of text to digest and effectively retain for the ABIM Internal Medicine Board Exam.