Selena Gomez shares her Lupus Diagnosis and Treatment: What you need to know for the ABIM & USMLE Exams
American actress and singer Selena Gomez revealed last week in a Billboard interview that she has been diagnosed with systemic lupus erythematous (SLE), a rheumatological condition commonly tested on the USMLE Steps, Medicine Shelf, and ABIM Board Exam. She apparently kept this a secret for well over a year, since in December 2013, she cancelled an Asian/Australian tour due to health concerns. At the time, the rumor mill went into overdrive saying she was dealing with substance abuse. However, it turns out that she was undergoing chemotherapy for SLE.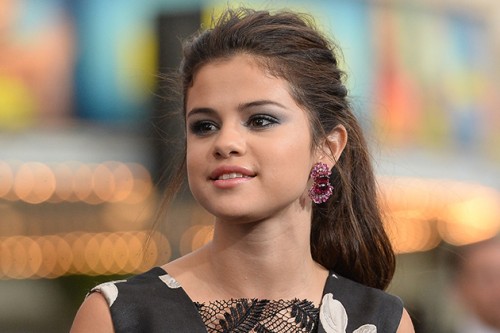 (Photo by Jason Merritt/Getty Images)



So here's what you need to know about SLE for the ABIM, USMLE, and the wards.




What symptoms are needed to diagnose SLE?




As many media outlets reported in their explainers, many organs are involved in this autoimmune condition, including the kidney, heart, brain, spine, and lung tissue. Given the complicated set of clinical features seen in SLE, the diagnosis of SLE is more esoteric than most disorders. Any four of the following should be present:



Positive ANA
Malar (a.k.a butterfly-shaped) rash sparing the nasolabial folds
Discoid rash
Photosensitivity
Oral ulcers
Arthritis (often the presenting symptom)
Serositis (pericardial, pleuritis, abdominal)
Renal problems (manifested as new-onset hypertension; proteinuria)
Neurologic disorders
Hematologic disorder (autoimmune hemolytic anemia, thrombocytopenia, leukopenia)
Antiphospholipid antibody syndrome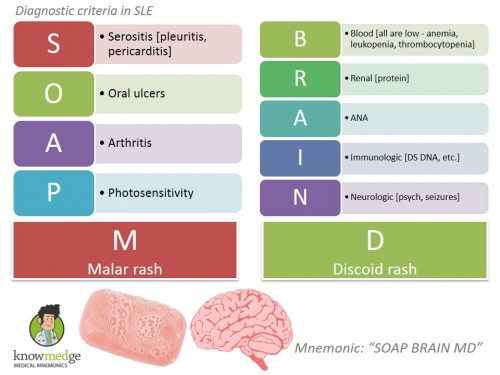 While Gomez didn't go into details about her specific symptoms, joint pain occurs in 90% of patients with SLE. Malar or butterfly rash is the name of the classic skin manifestation of lupus. It is seen in almost half of all patients. Below is an example of this rash.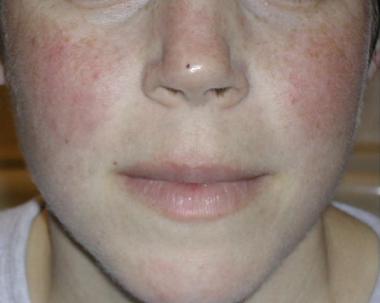 (Credit: emedicine.medscape.com)



What is the most sensitive test for SLE?




The ANA test is very sensitive for diagnosing SLE and is thus ordered first in the workup. However, it is not specific. Another singer, Lady Gaga, once told Larry King that she was "borderline positive" for lupus but doesn't have the disease. It's unclear which marker she was referring to but she may have meant the ANA test since many folks have this without actually having SLE.




What are the specific tests used to diagnose SLE?




The anti-dsDNA and anti-Smith (anti-Sm) tests are both very specific for SLE. This means that their presence is a strong indicator that the patient does in fact have SLE. Furthermore, the best test for measuring disease activity is anti-dsDNA. During a flare-up, the levels of the complement markers C3 and C4 decrease.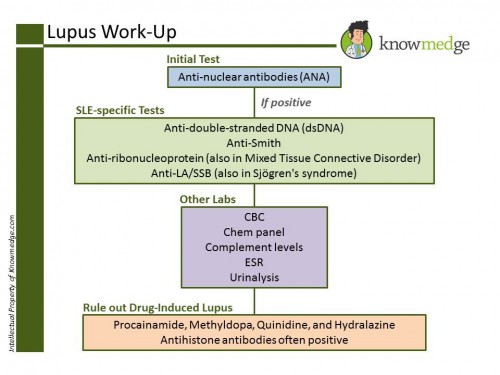 Does Gomez fit the textbook demographic of a patient with lupus?
Yes. About 90% of patients are women. Those with African, Asian, and Hispanic (like Gomez) backgrounds are at greater risk of developing the condition. Over 90% of the female individuals with lupus are between the ages of 15 and 45 years. At 23 (or 19 in 2011 when she is reported to have been diagnosed), Gomez falls in this demographic. Given its propensity for affecting those in their 20s and 30s, there are other young well-known musicians, actors, celebrities who have been affected: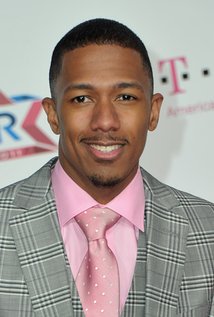 Nick Cannon (credit: imdb.com)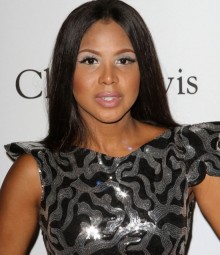 Toni Braxton, who once tweeted "Lupus medication actually causes most women to gain weight. But we're still fabulous! I'm going to work it on out" referring to the oral corticosteroid, prednisone. (credit: AceShowbiz)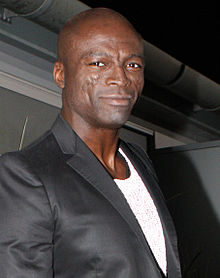 Seal, who has facial scars secondary to discoid lupus. (credit: en.wikipedia.org)



What is the treatment for SLE?




In addition to NSAIDs, various medications are involved in the treatment of SLE. These include the following: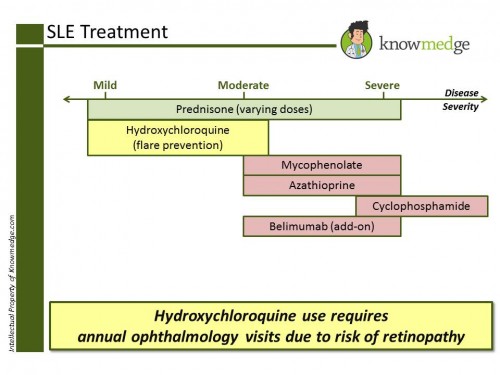 Gomez didn't mention the name of the medication(s) she has been on. However, she did state that it was a chemotherapeutic agent. Of the above treatment options, Mycophenolate (Brand name: CellCept) and Cyclophosphamide (Brand name: Cytoxan) are chemotherapy medications that suppress the immune system. As the above chart shows, they are used in the most severe forms or in lupus nephritis.
What effect does SLE have on pregnancy?
Female patients with SLE are anywhere from twice to five times more likely to have miscarriage, stillbirth, or premature delivery than those without the disease. Testing for anti-Ro/SSA and anti-La/SSB antibodies is important in the fetus. If positive, the baby will be at risk of having neonatal lupus erythematosus. The main medications that are appropriate to use during pregnancy include hydroxychloroquine, prednisone, and azathioprine.
What about the prognosis?
Despite the fact that SLE is a chronic condition, Gomez tells her fans and the public not to "feel sorry for her" because of this diagnosis. http://hollywoodlife.com/2015/10/11/selena-gomez-lupus-diagnosis-pity-help-others/ Indeed, the overall prognosis has improved drastically. Since the 1960s, five-year survival has improved from 50% to greater than 90%. Complete remission is though still rare.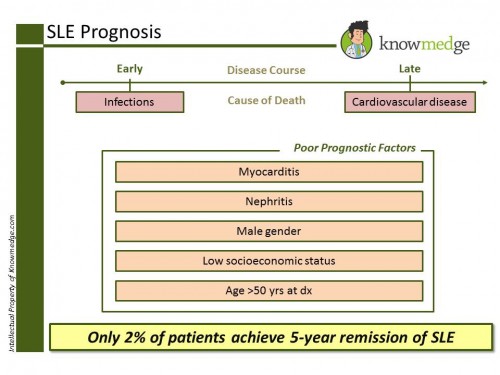 Furthermore, she doesn't appear to have any of the five factors that worsen prognosis:
Myocarditis
Nephritis
Low socioeconomic status
Male gender
Age greater than 50 years at diagnosis


Here's wishing Gomez (and the millions of other individuals with this diagnosis) all the best in their management of lupus!

See previous ABIM Board Exam disease profiles here.

Reference:
MKSAP 17. American College of Physicians. Chapter 7: Systemic Lupus Erythematosus. Accessed October 13, 2015.