Updated 2020 USPSTF Hepatitis C Screening Guidelines Much Less Complicated Than Before
By Ravi Bhatia MD
April 15, 2020
Lost in the wall-to-wall news covering the dangerous, ongoing Covid 19 pandemic last month was an update to the all-important USPSTF screening guidelines. Usually, this type of announcement generates extensive press and discussion related to the implications. Last month however, the announcement updating hepatitis C screening was made without creating much controversy, likely because many people within healthcare and the general public didn't even see it.
Previously, the demographic range for screening hepatitis C was those born between 1945 and 1965. Indeed, we've asked the question in Twitter many times before and MKSAP still lists it as the current guideline.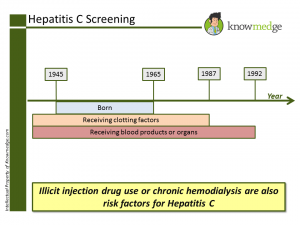 Click image to enlarge old guidelines



No other screening used year of birth as the screening criteria so it was kind of easy to remember this one. And if you pay attention to the demarcation of different generations, you know that 1945-1965 roughly aligns with the baby boomer generation.

Now, however, the hepatitis C screening has broadened substantially. While it used to cover just two decades, the USPSTF 2020 HCV screening guidelines spreads across ages 18 to 79. (1)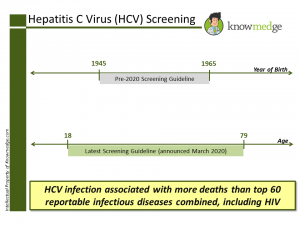 Click image to enlarge



No other screening covers so much of the American population as does this new hepatitis C screening. Even screening for Diabetes, per USPSTF, should only be done in adults between ages 40 to 70 who are overweight or obese. Obviously, in clinical practice, fasting glucose and/or a hemoglobin A1c is checked in just about everyone in adult medicine.

A huge plus of the new hepatitis C guidelines is that you no longer need to remember the other at-risk groups who get screening outside the "born between 1945 and 1965" age group. That used to include:
Past or present intravenous drug users (the most important risk factor for hepatitis C)
Patients who received clotting factor concentrates before 1987
Those who were ever on long-term hemodialysis
HIV-positive individuals
People with persistently elevated alanine aminotransferase (ALT)
Previous recipients of blood transfusions or organ transplants before July 1992
Obviously, those folks should especially be screened, but they are already covered in the age 18-80 guideline.
The impetus for the widened screening is likely due to the increasing impact of hepatitis C virus, which is the most common chronic blood-borne pathogen in the US. The USPFSTF explains "Hepatitis C virus infection is associated with more deaths than the top 60 other reportable infectious diseases combined, including HIV." (2) About 1.0% of the US population has chronic hepatitis C virus infection. Increases in intravenous drug use as well as increased surveillance led to a 3.8-fold increase in infections between 2010 and 2017.(3)
The USPSTF gave the new hepatitis C screening a Grade B recommendation, which means that there is high certainty that the net benefit is moderate or there is moderate certainty that the net benefit is moderate to substantial.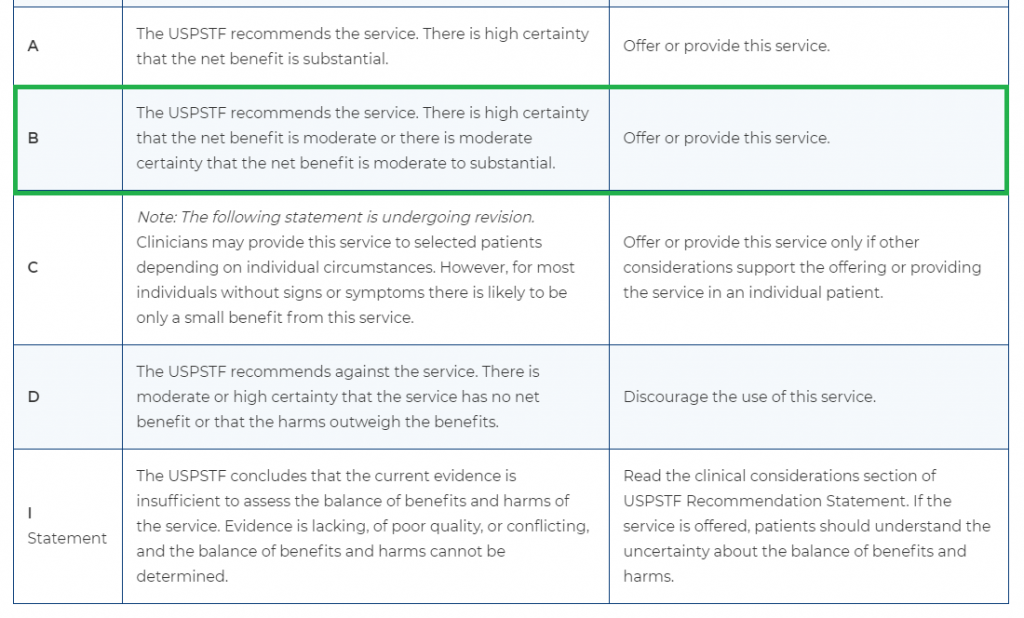 Of note, the CDC has not modified their HCV screening guidelines.

As with any guideline that has recently been changed, USMLE, ABIM, ABFM and other exams may not include it right away. With that said, it's useful to remember for your clinical knowledge and practice when interacting with any patient between the ages of 18 and 80.

References

1. Hepatitis C Virus Infection in Adolescents and Adults: Screening. United States Preventative Services Task Force. March 02, 2020. https://www.uspreventiveservicestaskforce.org/uspstf/recommendation/hepatitis-c-screening.

2. Ly KN, Hughes EM, Jiles RB, Holmberg SD. Rising mortality associated with hepatitis C virus in the United States, 2003-2013. Clin Infect Dis. 2016;62(10):1287-1288

3. Centers for Disease Control and Prevention. Surveillance for viral hepatitis—United States, 2017. Published November 14, 2019. Accessed January 23, 2020. https://www.cdc.gov/hepatitis/statistics/2017surveillance/index.htm