6 Tips for Family Medicine Boards Success – Part 2
This is the second post in a two part series to get you familiar with the American Board of Family Medicine (ABFM) Exam and get ready for test day. If you have not read Part 1, you can check it out here.

Part 2 – Developing a study strategy

There is not a single studying strategy that works best for everyone. However, it is important to have a strategy that helps you stay organized and on task. Below we've identified some of the tactics and resources that we believe will help you organize your studying efforts. It is ultimately up to you to understand the right mix of study resources you want to include in your study portfolio. After all, you've made it through countless exams just to get here – don't lose sight of that.

Regardless of which study resources you use, we recommend that you start by creating a weekly study plan that highlights the category or categories of content you will be reviewing each specific week. For example, looking at the content breakdown in the previous post, you can see that the single largest area emphasized on the exam is the Respiratory System. Depending on your current comfort level with this subject, this may be a good starting point for Week 1 of your study plan.

1. Get a study guide
There are a number of study guides available to help you review the medical concepts that are fair game for the exam. Some of the more popular guides (in no specific order) include:

Before purchasing the study guide, spend a few minutes browsing the table of contents, which you can do by visiting a physical bookstore (if one still exists in your city) or using the Look Inside feature on Amazon.com. Many students jump right into the content, but it's helpful for students to understand at a high level how the author has organized their curriculum. Moreover, exploring how many pages have been allocated for each subject will help you better gauge how much time you will need to get through each chapter and subject area.

2. Find a study buddy!
Studying with an equally-motivated study partner can be a great way to learn. Not only do good study partners hold you accountable to keep you on track (so that you are less likely to binge on Netflix instead of studying), but also offer you an opportunity to take a break from being a student and become a teacher by explaining out loud what you've learned. Successfully articulating what you understand is often the best way to gauge your mastery. In addition, these study sessions offer you an opportunity to fill in gaps in your own understanding and eliminate knowledge blind spots by leveraging the wisdom of peers using a complementary set of study resources.

Your colleagues can be a terrific source of study buddies. During your first group meeting, it's a good idea to determine your compatibility by comparing schedules to make sure you won't struggle to find times that work well for both of you keeping in mind all professional and personal commitments.

In addition, if you are looking for study partners outside your school or program, leverage popular forums, such as StudentDoctor, to find potential study buddy candidates for in-person or virtual study sessions using tools such as Skype or Google Hangouts. We've also opened up a dedicated Study Buddy discussion thread on our forum where you can also post Study Buddy requests.

Lastly, while you are waiting to form a study group, ask a significant other, sibling, or friend to fill the role of a study partner – even if they are not preparing for the Family Medicine board exam themselves. Although they may not be able to explain or clarify concepts for you, they can be great sounding boards as you talk through concepts out loud and be terrific at quizzing you using your study guide.

3. Practice questions
We're talking about practice? With all due respect to Allen Iverson, yes we are!



As you cover each subject area laid out in the ABFM Blueprint, testing your understanding using practice family medicine questions is critical to getting the real-time feedback you need to identify your strengths and weaknesses.

When searching for a question bank, search both for breadth and depth of content. As we mentioned in the earlier section regarding study guides, a good place to start is by looking at how the content is organized. On the Knowmedge Family Medicine QBank, we've organized all our questions by both category and subcategory. This level of granularity is designed to help students better coordinate their learning with study guides and also target their practice more efficiently as part of their weekly study plan.

4. Refresh key medical concepts
One of the most overlooked aspects of the Family Medicine study experience is the need to reinforce what you've learned in the past. It's natural to forget some concepts over time as your brain seeks to continuously absorb new information. Many students, in their quest to get through all the material as quickly as possible simply do not spend enough time reviewing material they've studied a few days, weeks, or months ago. It's important to remember that the key is not to be a quick learner, but to be efficient. And it is far better to spend a little bit of time during each study session to review "older" material than simply getting through new material and hoping to have enough time to review at the end. Repetition and regular "re-practice" is the key to developing any new skill and succeeding on the Family Medicine Boards.

In order to help students get regular reps with the material they've covered, we've created a spaced learning flashcard platform for Family Medicine. As you practice each question in our Qbank, you will see a few flashcards at the end of each question that test your understanding of key concepts you've just read. You can now review these key "learning points" on our mobile app without ending your question bank session.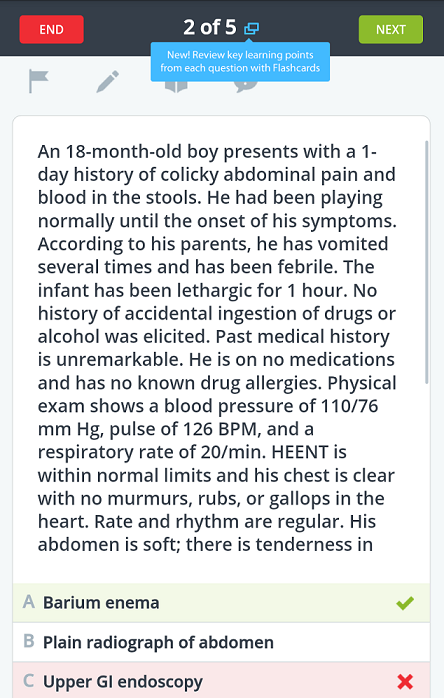 Based on your performance on each flashcard, we'll automatically queue it up for further review. That way, whenever you log in to Knowmedge, you will see a number of flashcards assigned to you for review on that day.

As you demonstrate consistent mastery of medical concepts, you'll see them less frequently so you can still be efficient with your study time.

5. Take advantage of online Family Medicine resources
With the rise of various knowledge sharing platforms, and Twitter in particular, learning from others has never been easier. There is an abundance of digital resources to help you succeed on the Family Medicine exam. Below are some which we've come across. It is by no means a comprehensive list, but a good go-to if you're just getting started or looking to explore additional resources.

Twitter Handle (official description in parenthesis)


In addition, follow us on twitter @Knowmedge for bite-sized Q&A throughout the week.


Q2: Which complication 2-7 days S/p MI can cause pulseless electrical activity (PEA):

— knowmedge (@knowmedge) October 12, 2016


6. Hit the gym!
Preparing for the board exam can be a stressful experience and lead to sedentary behavior for extended periods of time. While it is important to prioritize your preparation. don't sacrifice regular physical activity in the process. In the weeks and months ahead, as you work towards entering a career in which you will help countless individuals live healthy lives, don't neglect your own. Be sure to get fresh air and sufficient exercise and include it as part of your study plan if you have to!

As you study for your boards we wish you the best and are here to help. Let us know if you have any questions. Happy Studying!

Sign up for a free trial of Knowmedge here
For on-the-go studying, download the Knowmedge Medical app for your iOS and Android device.