ABIM Internal Medicine Board Exam Results – 2014
The 2014 ABIM Internal Medicine Board Exam results are out! For those that passed, we are so happy for each of you! As with each of us who has taken the exam – you don't get here without a lot of effort and sacrifice! So a hearty congratulations to each of you! Or as we like to hashtag on twitter… #HeckYeah!

The ABIM Exam results are out though the total percent of exam takers that passed won't be released until a later date. If the results are similar to previous ABIM results, we can expect a total pass rate of somewhere in the mid 80% range for first-time takers.

To those who did not pass, you should know that it doesn't mean you aren't a great doctor. It doesn't mean you don't care about your patients or that your patients don't love you. It doesn't mean that you are any less qualified to be a doctor. It means one thing and one thing only… that you did not pass the exam.

And, yet, as I'm sure all of you are aware – it's important to pass the exam. We know there's a lot of debate out there on this topic and we recognize there is a lot of negative sentiment towards the ABIM. Until the rules change, though, we all have to play by them. And that means you have to get back up and get it right! The good news is… you can pass this exam – We promise you!

We want to share with you an email we received from a subscriber.

Yes, you read that correctly… 15 years! Now that's an incredible story! We assure you no one wants to have a 15 year struggle. The subscriber, who goes by R.A., was the first person to send us a message yesterday. And it stopped us in our tracks. Behind that message there is an incredible 15 year story of perseverance.  If R.A. kept going for 15 years…then you can as well. You can regroup and pass the exam next year!

There is no perfect solution to passing this exam. Each of us learns differently. Over the past year, we've discussed some of the great sources such as the MKSAP books or Board Basics. We've also covered the large number of Internal Medicine Board Review Live Courses. We have also reviewed how to study for and pass the ABIM exam.

Each of these is helpful. And as you get back in your exam prep mode – We hope you'll find them to be a helpful review. However, the best advice We can give you is to take a mental break. Even if you feel like you could start right now… resist the temptation to actually begin studying. We wouldn't discourage you from setting up a study plan…in fact you should. Commit to when you will start studying, think about what resources you'll want to use. Even if you want to get everything ordered, that's all right. Once that's done – just step back, clear your mind and start back up when you're ready. It may take a few weeks, a month, or even until early next year. That's okay.

One final note – We want you to know that we want to be there to help you pass next year. It really does mean a lot to us. If you did not pass this year – just send us a note with a screenshot of your result. Once we receive your email, we'll send you a coupon to get the IM QBank for an entire year for $199. That's $100 off the regular price.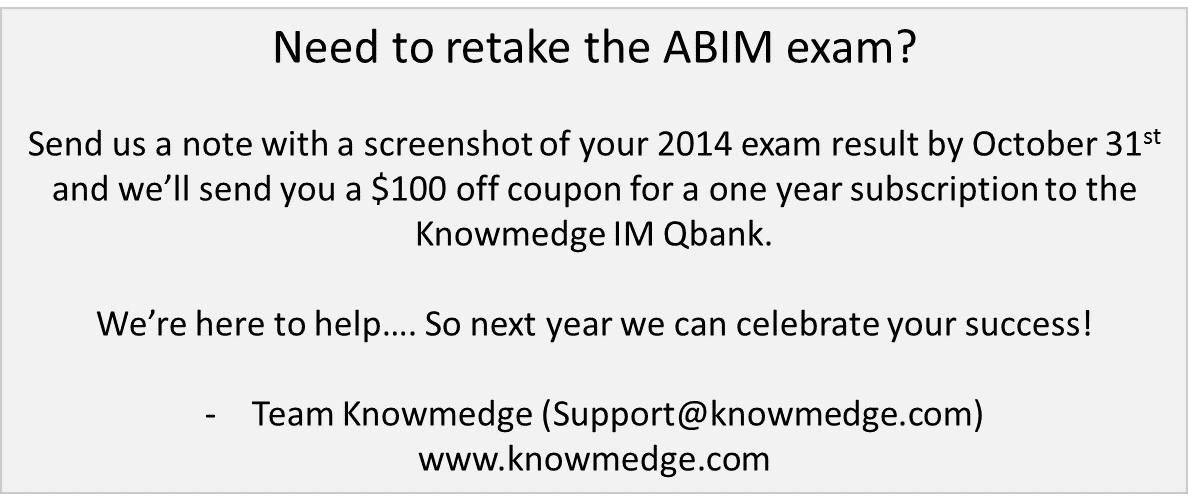 We hear from people that pass, as well as those that haven't passed. As good as it feels to hear from people that pass, it's the "didn't pass" emails that keep us up at night. We want to be there with you… we want to hear from you if you didn't pass because we really want to hear from you next year when you do! And so together we can #HeckYeah!