Ciguatera toxin poisoning cases underreported, study finds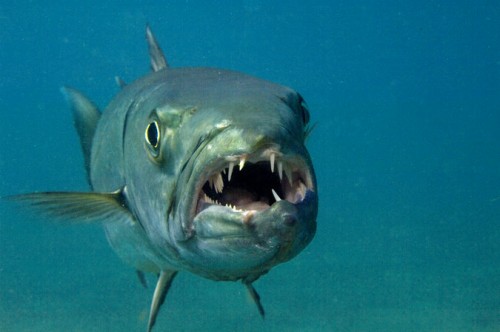 Earlier this week, New York Times readers found a picture of a menacing barracuda (shown above; credit: Science Source) in the Health section. Nope, it wasn't regarding the shark-like attacks on swimmers this time of year. Instead, the article was regarding ciguatera toxin poisoning with the accompanying headline: "Fish Poisoning More Common Than Believed." The article cited a study in The American Journal of Tropical Medicine and Hygiene.

Although most medical students and residents won't encounter ciguatera toxin poisoning during their training (especially those living in non-coastal areas), ciguatera is actually the most commonly reported marine food-borne illness worldwide. In the United States, we encounter it mostly in Florida and Hawaii. The AJTMH study reviewed epidemiology of the cases stemming from the Florida Keys and the Bahamas and compared these data to e-mail surveys of 5,352 recreational fishers who should be reported to public health authorities if they test positive. The report concluded that "ciguatera incidence is higher than estimated from public health reports alone." Furthermore, it found that ciguatera toxin poisonings tend to be more common in the Hispanic population than other ethnic groups, possibly due to higher barracuda consumption.

So, what do you need to know for the ABIM medical boards, USMLE steps, and In-Training examination?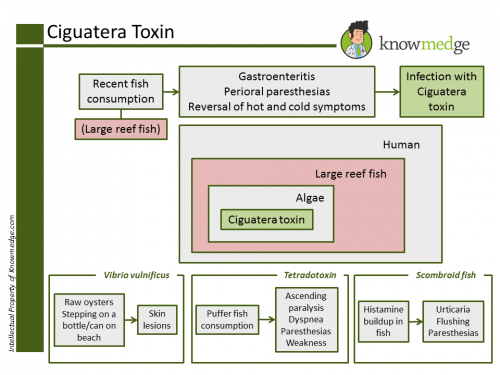 Ciguatera is produced by algae, which are then consumed by increasing sizes of reef fish. One of the largest consumers are barracudas, but the toxin "can also be found in grouper, amberjack, hogfish, snapper, mackerel and mahi-mahi," as mentioned in the New York Times article. Of note, the toxin is not damaged by either cooking or freezing. In addition to gastroenteritis symptoms like abdominal pain/nausea/vomiting/diarrhea, ciguatera poisoning manifests characteristically as perioral paresthesia and "hot and cold sensation reversal." The latter is due to burning sensation when making contact with cold. In rare, severe cases, paralysis, bradycardia, hypotension and even coma can occur.
Since no antitoxin is available, management is symptomatic. Some doctors administer activated charcoal which can absorb the toxin within the first 3 to 4 hours after ingestion.
Note that the above Knowmedge visual also contains unique clinical scenarios and specific characteristic symptoms of the other marine food-borne illnesses: Vibrio vulnificus, Tetradotoxin, and Scombroid. These can also be found on ABIM medical boards, USMLE steps, and In-Training examinations so reviewing them can be high-yield.
References:
Donald G. McNeil Jr. "Fish Poisoning More Common Than Believed." Published June 30, 2015. http://www.nytimes.com/2015/06/30/health/fish-poisoning-more-common-than-believed.html?ref=health
Elizabeth G. Radke, Andrew Reich, and John Glenn Morris Jr. "Epidemiology of Ciguatera in Florida." Journal of Tropical Medicine and Hygiene. Published online June 29, 2015 , doi:10.4269/ajtmh.14-0400Am J Trop Med Hyg 2015 14-0400 http://www.ajtmh.org/content/early/2015/06/24/ajtmh.14-04004