Hillary Clinton has Community Acquired Pneumonia. What to know for #ABIM, #USMLE, #PANCE, #ABFM
"Hillary Clinton's Doctor Says Pneumonia Led to Abrupt Exit From 9/11 Event" read the page A1 headline in this morning's New York Times. The diagnosis came hours after she had to suddenly leave a ceremony being held on the 15th anniversary of the Sept. 11 attacks. Clinton's spokesman, Nick Merrill, said she was feeling "overheated" at the commemoration ceremony, which is not surprising considering that fever and cough (which Clinton had recently) are often seen in pneumonia.

An explainer provided a good overview of pneumonia for the general public. However, below, we focus on what you need to know about pneumonia for the wards, as well as exams like #USMLE, #ABIM, #ABFM, and #PANCE.

What are the risk factors for Community-Acquired Pneumonia?

COPD
Alcoholism
Bronchiectasis (which predisposes to Pseudomonas)
Smoking
Older age

Men, especially black males, are at higher risk of getting pneumonia.

What are the bacterial causes of Community-Acquired Pneumonia?

The epidemiology can help narrow down the specific cause.

Streptococcus pneumoniae is the most common bacterial cause in all age groups.
Mycoplasma pneumoniae (walking pneumonia) and Chlamydiophila pneumonia are seen in patients between 20 and 40 years of age.
Moraxella and Haemophilus species are more often in chronic lung disease patients.
Legionella pneumophila is implicated in environmental sources (e.g. water towers)


However, keep in mind that these associations are not 100% accurate as Clinton (who is 67 years old) is said to have had walking pneumonia, well out of the 20-40 year age range.

The Knowmedge Mnemonic below allows us to remember a couple of the general infectious categorizations of pneumonia: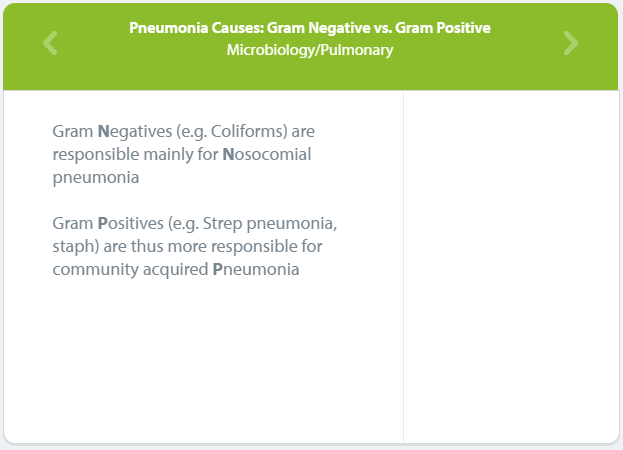 Treatment
Before we can prescribe medications, we need to determine where patients should be triaged. CURB-65 is the risk stratification tool to use in managing community-acquired pneumonia and determine whether a patient can be treated as an outpatient or require admission to the medical ward or the ICU.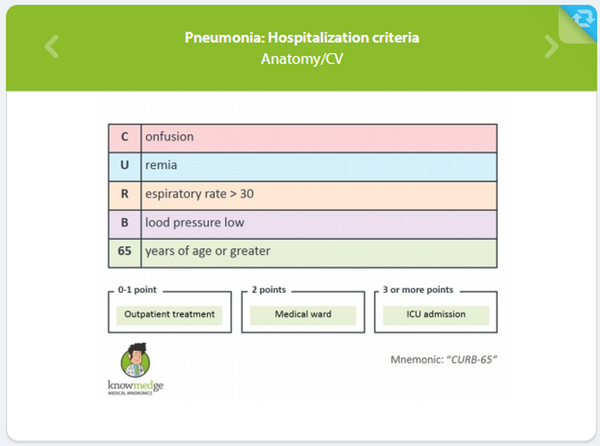 At 68 years, Hillary gets 1 point for age. Given that she nearly passed out, her blood pressure was likely low as well. Therefore, she had at least 2 points. Technically, based on CURB-65, she should have been managed in the medical ward. However, the heavy level of security required and lack of privacy instead led her to seek care by a home doctor while resting at her daughter's Chelsea residence.

As any medical student, resident, doctor, or physician assistant knows, antibiotics are necessary to treat bacterial pneumonia. Indeed, as stated in the New York Times article: "She was put on antibiotics, and advised to rest and modify her schedule," her physician Dr. Lisa Bardack said. Generous fluid consumption is also needed.

Here are the antibiotic regimens to remember for the boards (USMLE, ABIM, PANCE) and wards in the usual Knowmedge style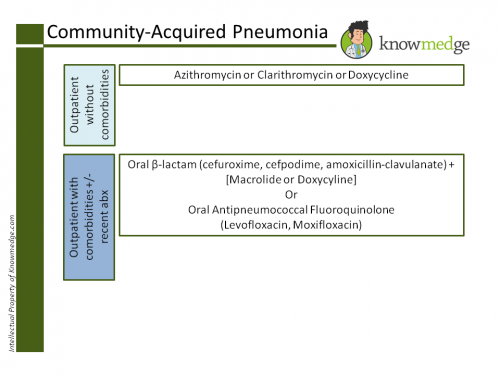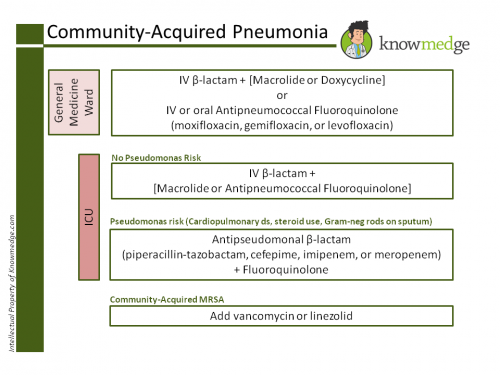 References:
Jonathan Martin and Amy Chozick. "Hillary Clinton's Doctor Says Pneumonia Led to Abrupt Exit From 9/11 Event." New York Times. Page A1. SEPT. 12, 2016.