USMLE Step 3 Subject Review – Breast Cancer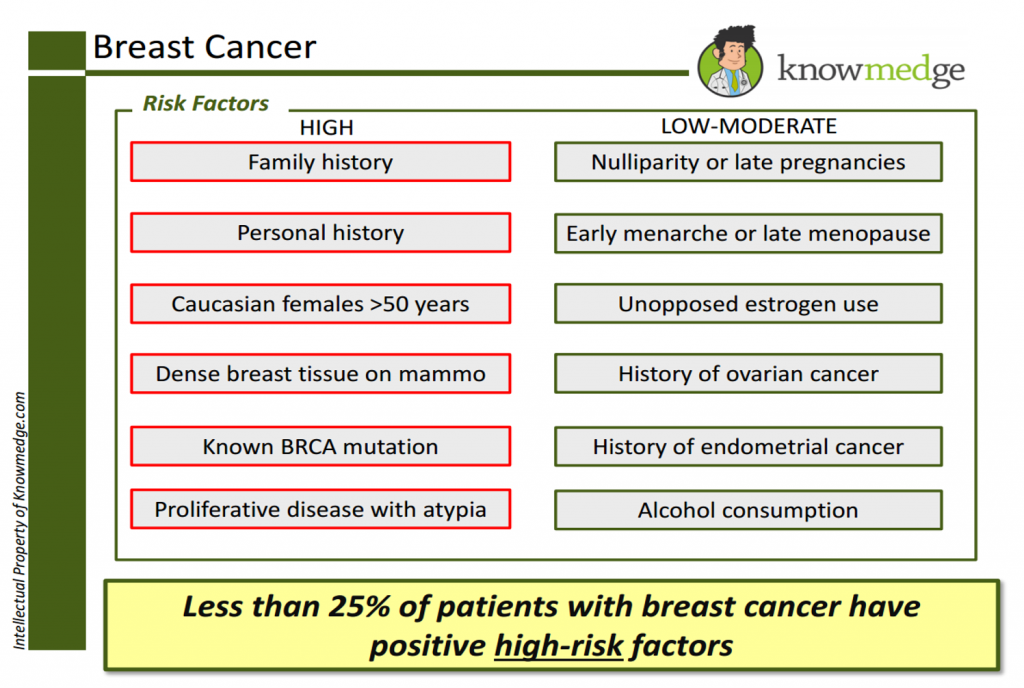 Breast Cancer is an important topic to understand for the USMLE Step 3, ABIM, and on other medical exams where internal medicine is a major focus. The following is an excerpt out of Cracking the USMLE Step 3. 
Risk factors include:

Age (i.e., greater than 50)
Female
Family history
BRCA 1, 2
Obesity
Highfat diet
Early menarche
Late menopause
Nulliparity
HRT
Previous history of breast cancer

Signs and symptoms include:

Most commonly presents as a firm mass in the upper outer quadrant of the breast
Nipple or skin retraction
Bloody nipple discharge
Palpable axillary lymph nodes
Back pain

If metastasizes, usually does so to the bone

Different types:

Ductal carcinoma in situ (DCIS)

More common than LCIS
Usually affects one breast and does not increase contralateral breast cancer risk

Lobular carcinoma in situ (LCIS)

Increases risk for contralateral breast cancer

Diagnose with FNA and mammogram followed by core needle biopsy if suspicious
Need to evaluate spread of breast cancer with sentinel lymph node biopsy

Also check estrogen and progesterone receptor status
Also check Herceptin2/Neu receptor status

If positive for both estrogen receptor and Her2/Neu, then better prognosis

Can treat with tamoxifen or other selective estrogen receptor modulators (SERMS)
Can also treat with herceptin, an antibody that can bind to the Her2/Neu receptor causing cytotoxicity (i.e., type II hypersensitivity reaction)

Surgical options

Consider simple lumpectomy:

If no lymph node spread
Her2/Neu positive
Tumor less than 2 cm especially in large breasts

Consider simple mastectomy:

If no lymph node spread
If patient has small breasts

Consider modified radical mastectomy:

With any evidence of lymph node spread
More popular than radical mastectomies which are no longer common

If distant spread (i.e., stage IV), surgery is not indicated

Administer systemic chemotherapy

Paget's Disease of the Breast

Noninvasive intraepithelial adenocarcinoma
Eczematous lesion around the nipple
Diagnose with core needle biopsy
Treatment requires local surgical excision

Screening for breast cancer involves routine mammograms
You can see the previous Cracking the USMLE Step 3 excerpt on HIV.