Facebook Internal Medicine Question Bank Challenge Results
The 2nd Annual Knowmedge Internal Medicine Question Challenge has come to a close and we're excited to announce the winners! A total of 47 people participated in this year's Facebook contest. The contest awarded participants points for answering a series of 20 questions, pulled from a diverse set of internal medicine topics including Cardiology, Endocrinology, Nephrology, Neurology, and Hematology.

Thank you to everyone for your participation and enthusiasm! We hope you all had fun, and learned a few things along the way as well! If you have any other ideas/suggestions to make medical exam preparation both fun and educational, don't hesitate to send us a direct message on Facebook or an email at support@knowmedge.com

Like last year's contest, the contest came down to the final couple questions. Join us in congratulating this year's winner: Arsalan! Arsalan started off a little slow in the first couple questions but then went on an amazing run. We were amazed at his ability to be the first to respond to questions regardless of the time of day the question was posted. He was the first to answer on 8 of the 20 challenge questions. This helped win the 2nd Annual Facebook Internal Medicine Question Challenge. The result of his efforts – a 3-month subscription to the Knowmedge Internal Medicine Question Bank!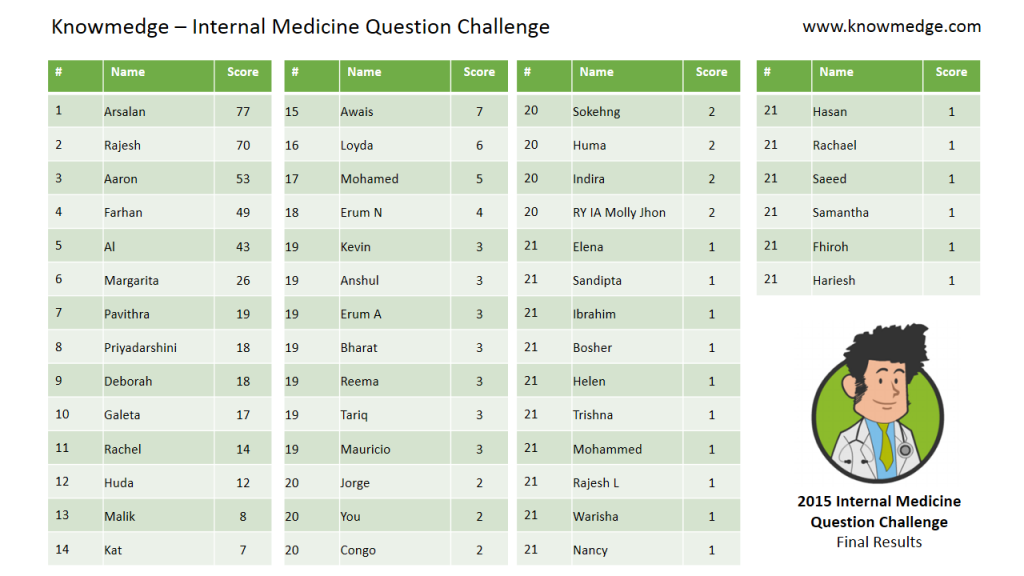 Congratulations to Arsalan and all the other participants!