Which Non-Steroidal Anti-Inflammatory Drug (NSAID) is the Safest?
One of the most commonly used category of medications worldwide is NSAIDs, but their long-term use is limited by serious gastrointestinal side effects. NSAIDs inhibit cyclo-oxygenase (COX). Analgesic/anti-inflammatory effects result from inhibition of COX-2 while gastrointestinal side effects arise from the inhibition of COX-1.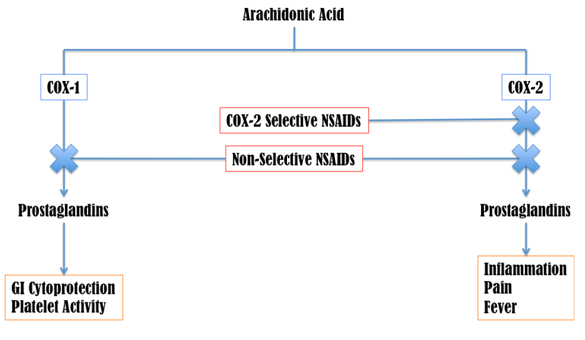 There have been many studies looking at NSAIDs and their vascular events, coronary events, stroke, heart failure, and upper gastrointestinal complications; this post will review the largest meta-analysis to date reviewing the different types of NSAIDs and their above effects.

What they did: • Meta-analysis 280 Trials comparing NSAIDs versus Placebo (124,513 Participants) • Meta-analysis 474 Trials comparing one NSAID versus another NSAID (229,296 Participants)

Primary Outcomes: • Major Vascular Events (Non-fatal myocardial infarction, non-fatal stroke, or vascular death) • Major Coronary Events (Non-fatal myocardial infarction or coronary death) • Stroke • Mortality • Heart Failure • Upper Gastrointestinal complications (Perforation, obstruction, or bleed)

Results:

Limitations: • Cannot definitively conclude if NSAID use immediately increases vascular risk • Most studies in the analysis are less than 1 year, and not followed out past that time • Low dose (220mg) naproxen was not reviewed or studied in this meta-analysis

Conclusion: • The vascular risks of high-dose diclofenac and high dose ibuprofen are similar to coxibs

In my opinion, how this affects your practice: • All NSAIDS almost double the risk of Heart Failure • All NSAIDs increase the risk of upper gastrointestinal bleeding • High dose naproxen is associated with less vascular and coronary events compared to other NSAIDs

Reference: 1. Coxib and Traditional NSAID Trialists' (CNT) Collaboration. Vascular and Upper Gastrointestinal Effects of Non-Steroidal Anti-Inflammatory Drugs: Meta-Analyses of Individual Participant Data from Randomized Trials. Lancet 2013 May; EPub: 1 -11. PMID: 2372639

_______________________________________________________________________________

Dr. Salim R. Rezaie is a physician at the University of Texas Health Science Center at San Antonio. He is double board-certified in Emergency Medicine and Internal Medicine.